Attune offers self-service endorsements online! You can now add, remove, or edit any of the following the following in seconds straight through the Attune Portal:
Additional insureds (here are all AIs offered via self-service)

Waiver(s) of subrogation

Basic business information (DBA, insured mailing address)

Locations
To endorse your policy, simply click "Endorse Policy," from the main account page in the portal and select the policy you need to endorse.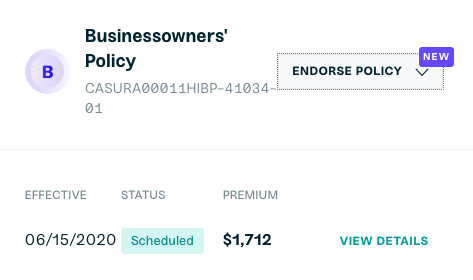 Enter the effective date (it will default to today), select your change request and you'll be prompted for additional information based on your request type.
Once submitted, you will be taken to a Review screen summarizing your changes and showing any change in premium (if applicable). Once you review the endorsement, you can click on the 'endorse' button and download the PDF in the 'change history' section of the policy.
We are actively working on adding additional endorsement types in the Attune Portal and we will keep you informed as new endorsements are available. If you need any endorsements that are not listed above, please submit a request and our Customer Care specialists will be able to assist you!